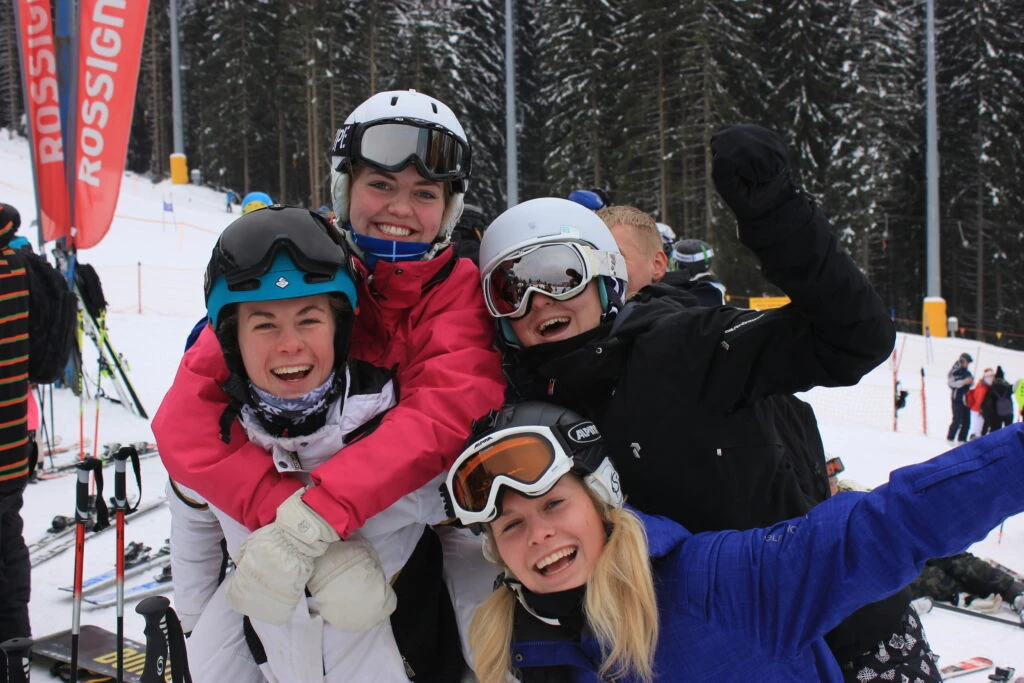 SKI TRIPS WITH THE SCHOOL
In spring, it will be possible to participate in a ski trip to Sestriere in Italy. This ski trip is open to all interested students.
For practical reasons, you must register for the first two ski trips before you start school. Additionally, we would like to know if you might be interested in joining the third ski trip to Canada in week 10.
Your registration for the first two ski trips (week 5 and 6) is binding. Read more under Economics further down on this page.
Your response to the third ski trip is NOT binding but merely an indication of our interest. You will register for this trip only after you have started school, when more information will be provided. However, participating in the Canada trip is only possible if you have participated in both weeks 5 and 6 in Italy.
Deadline for registration and completion of the questionnaire: October 15th, 2023.
Price, Sestriere, Italy in week 5 & 6: 14,500 DKK.

Price, Sestriere, Italy in week 6 (group trip): 7,500 DKK.

If you register for one or both trips, you will receive a separate email with an invoice. The ski trip(s) payment is due by November 1st.

In case of cancellation after November 1st but before January 5th, we will charge a fee of 3,500 DKK.

Full payment will be required for cancellations after January 5th (unless you have purchased cancellation insurance, which will come into effect).
Included in week 5:
Hotel accommodation with full pension

Transportation to and from Italy

Ski pass

Seven days of skiing/snowboarding

Ski or snowboard rental

Daily lessons

Optional AKI/Alpine Club Instructor Training (You can choose to take an AKI if you have a minimum of 6 weeks of skiing experience before starting at the school. As part of the training, you will assist in teaching other high school students during week 6 when they join us in Italy. This involves three mornings of instruction.)
Departure: Thursday in week 4
Included in week 6 (group trip):
Hotel accommodation with full pension


Transportation to and from Italy

Ski pass

Six days of skiing/snowboarding

Ski or snowboard rental

At least three lessons during the week
Departure: Thursday in week 5
Please note that you are responsible for obtaining Accident Insurance and Cancellation Insurance if desired (the school provides travel insurance).
In Sestriere, skiing enthusiasts of all levels can indulge in their passion. Right near the town, there are easy blue slopes for beginners. At the top of the same mountain and in the nearby area of Borgata, there are black slopes both on and off-piste to satisfy the most advanced skiers.

However, if you take the gondola from Sestriere on the other side, a true paradise awaits experienced skiers and those who crave off-piste adventures. There are plenty of red slopes in the area connecting Sestriere and Sauze d'Oulx.
For example, there are numerous red slopes north of Sansicario, where the slopes wind in and out of the trees. Finally, plenty of off-piste opportunities if you take the gondola up. There are over 1000 kilometres of off-piste terrain in the area.

Via Lattea spans a vast geographical area accessible without removing your skis. In the heart of the site lies Sestriere at an elevation of 2035 meters, and Via Lattea is one of Europe's largest ski resorts.

With a ski pass for the area, you can cross the border between Italy and France for a day. To the west of Sestriere lies the charming French town of Montgenèvre. The town offers varied skiing and a good lift system.
The southern part of the ski area near Montgenèvre has wide blue and red slopes with excellent carving potential. The area is characterized by its stunning location in a valley. It is possible to ski to Montgenèvre, but it takes about 2.5 hours from Sestriere – one way. Therefore, taking a taxi at least one way to have a great day of skiing without too much transport is advantageous. Don't forget your passport.

However, there are also activities in Sestriere that don't involve carving skis. You can, for instance, go snowmobiling or dog-sledging in the mountains and forests of the area. Experienced skiers over 12 years old can go heliskiing in the off-piste terrain if you're seeking an adrenaline rush. Sestriere also has a swimming pool with a pool filled with 29-30 degrees Celsius warm water, perfect for relaxing tired legs. Alternatively, you can go ice skating.