HAVE FANTASTIC EXPERIENCES IN SNOWY PLAYGROUNDS
Now you have the opportunity to turn your hobby into a life-long sport, where you never stop developing. In Ski & Snowboard at IHÅ you receive lots of competent lessons in a unique fellowship, that is especially built on trips to fantastic destinations. You will have experiences that you individually might not have had – and never as good as in the company of your new Folk High School friends. You will have the chance to immerse yourself in either skiing or snowboarding, while considerably improving your level. You can improve your snow skills in a safe environment, where we immerse ourselves in skiing or snowboarding together, and there is room for both beginners and the more experienced.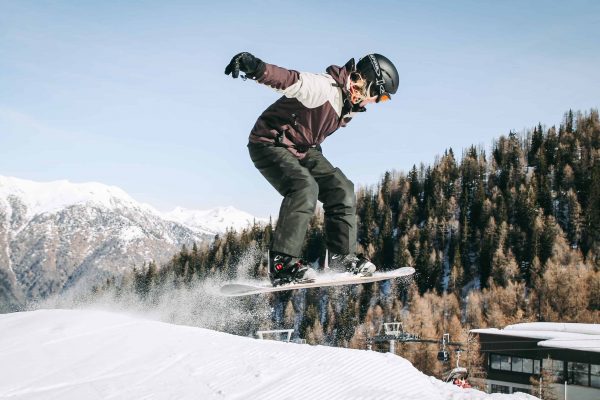 trips with
Ski & Snowboard
While you attend IHÅ you have the opportunity to go on several trips with Ski & Snowboard. At the moment the destinations are, amongst others, Passo Tonale and Marilleva in Italy, Banff in Canada and Hintertux in Austria. In addition, we also have a long list of other trips which you will be able to participate in when you attend IHÅ.
IMPORTANT PREPERATION BEFORE WE DEPART
The culmination of Ski & Snowboard is, of course our trips, where we travel to the most fantastic destinations around the world. But before we depart, we also take the time to prepare as well as possible beforehand, so we get as much as possible out of the trips. If you are into skiing, we use SkiArena Aarhus, which is an indoor skiing centre, where we practice various aspects of ski sport. We prepare for snowboarding with the help of both trampolines and jib boards, longboards, and Frank's Gym.
Please see the video to gain an insight into preparing for snowboarding.
TAKE IN THE ATMOSPHERE AT IHÅ ON A GUIDED TOUR
Are you considering attending our school, but are in doubt as to whether it would be something for you? Then, come and pay us a visit. The best way to be certain is to feel the atmosphere, meet the people that are at the Folk High School, and see our surroundings and our many facilities with your own eyes.