Satisfy your hunger for football
At IHÅ, you can have almost as much football on your timetable as you wish. If Football is one of your two sport subjects, you will train twice per week, but if you choose our Football Academy, you will come to have football four times per week and be able to get a serious taste of a professional set-up. Our practical training closely resembles the kind of club training programme that you are, no doubt, already familiar with, and includes a good mixture of both theory and practice. Our highly qualified teachers are football fanatics and will focus on your individual development from your first day on the pitch.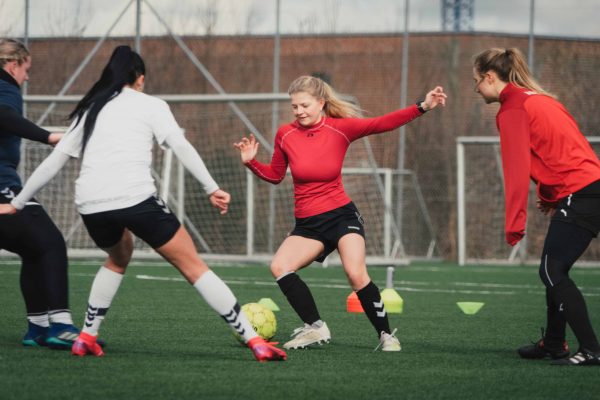 We are passionate about football and you will quickly become aware of this. We have fantastic facilities, including ordinary grass pitches, artificial turf, sand pitches, and halls for futsal and indoor football. We focus on your individual skills, the joy of playing, and immersion – in a fantastic training environment with proficient and experienced coaches. We work with exciting themes; we are technically and tactically challenging, while at the same time cultivating the mental aspect of the game. Plus, if you would like to play for a club in addition to attending IHÅ, we have a broad network and many clubs close by.
As a student at IHÅ with Football on your timetable, you will be invited on a weekend football trip to either Germany or England. We will watch a match together in the Bundesliga or the Premier League, or we might also watch a match from one of the lower leagues, to immerse ourselves in German or English football culture.
FOOTBALL ACADEMY – IF YOU JUST CANNOT GET ENOUGH
The Football Academy is a unique offering, for both girls and boys, where you can immerse yourself in football and try out your talent while living in a fantastic High School environment. At the Academy you will train four times per week with football players who have the same approach as yourself. Girls and boys train together and are matched so that all of you are challenged and develop as much as possible. No specific level of skill is required to become a part of the Football Academy, but you must want to take your training and development seriously.
TAKE IN THE ATMOSPHERE AT IHÅ ON A GUIDED TOUR
Are you considering attending our school, but are in doubt as to whether it would be something for you? Then, come and pay us a visit. The best way to be certain is to feel the atmosphere, meet the people that are at the Folk High School, and see our surroundings and our many facilities with your own eyes.