At IHÅ we have a focus on providing good food, which matches up to all of the sport that you play. When one is active, one needs good sources of energy, which can also contribute to building up muscles and a good condition. The kitchen is run by a team of fantastic cooks, each with their speciality within cookery. A passion for conjuring up magic in the kitchen is common to all of them, and not least presenting and serving food for us all at IHÅ. They always ensure that we receive varied and exciting fare, and, at the same time, have a focus on cutting down on meat consumption for the benefit of the climate.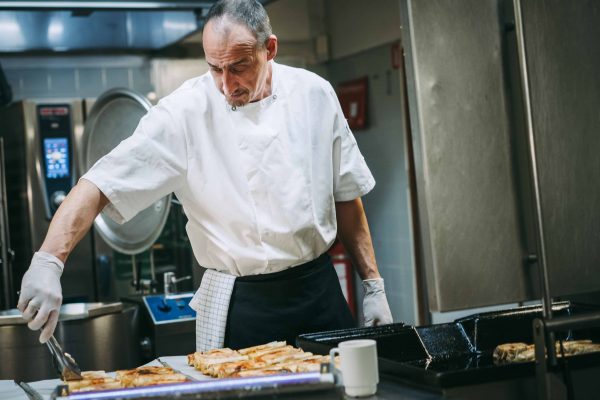 In the course of the day, there are three main mealtimes; breakfast, lunch and dinner, plus three snack times; morning, afternoon and late evening. If you have special needs, the kitchen will, of course, cater for them. You should notify them in the letter of introduction which is sent out before you begin, so that the kitchen can cater for your needs right from your first day at the school.
Breakfast: 7.00 -7.30 am
Lunch: 12.00 Noon – 12.30 pm
Dinner: 6.00 – 6.30 pm
Brunch on weekends: 9.00 – 10.30 am
TAKE IN THE ATMOSPHERE AT IHÅ ON A GUIDED TOUR
Are you considering attending our school, but are in doubt as to whether it would be something for you? Then, come and pay us a visit. The best way to be certain is to feel the atmosphere, meet the people that are at the Folk High School, and see our surroundings and our many facilities with your own eyes.