Facilities in and around ihå
ALL OUR FACILITIES ARE A MAXIMUM OF 300 M AWAY
We have some fantastic facilities at IHÅ, which, as a student you will really enjoy. We are an extension of the Vejlby-Risskov Centre and can offer ideal training facilities all year round, whichever sport you choose. In addition to our fantastic in- and outdoor sports facilities we also have a large number of fantastic spaces for creative expression.
All of the school's rooms are available to you in your free time. This includes multiart, music rooms, fitness rooms, activity halls and all classrooms. You can have fun outdoors at the bonfire site, play volleyball, Viking game, or such-like. The school's main building closes at 11.00 pm, and the alarms are activated. Then you can meet up in your rooms or in the tearoom if you wish.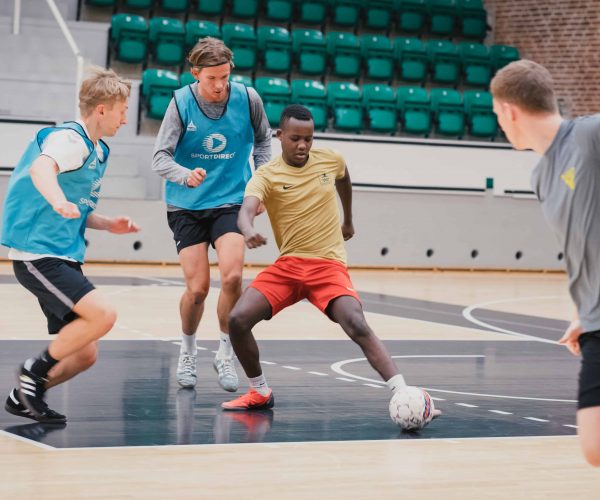 The Activity Hall is a sports hall which is always available for you as a student, and here you can try out lots of different activities. The hall is a multi-hall, where you can set up courts for, amongst other things, indoor football, volleyball, basketball, tennis or badminton. There is also a jumping pit available, plus a large selection of various sports equipment, so you can go wild. In addition, there is a built-in music and light system, so you can put on your own soundtrack to create the right atmosphere.
Vejlby-Risskov Hall (Hall 1), which is our direct neighbour, is a fantastic, elegant exhibition hall. You can come in and watch various matches with, amongst others, the basketball team, Bakken Bears, or the handball teams, Aarhus United or IK Skovbakken. But it is not the only thing that we use Vejlby-Risskov Hall for. You will also find that we use it when our lessons require a little extra space, and when we hold tournaments, where our students test their skills against outside teams.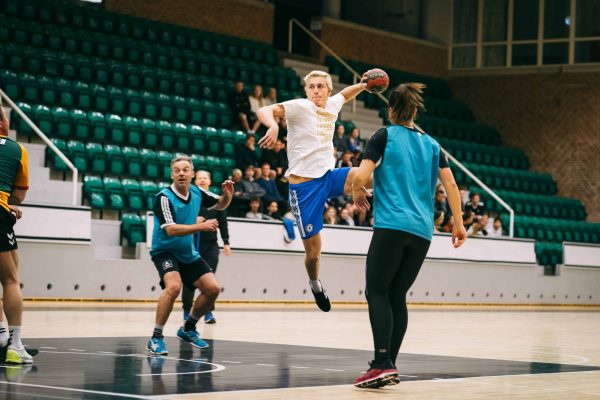 Our swimming pool is 12.5 m X 25 m and is used all year round. Kayakpolo, training of capsizing in kayaks, swimming lessons and diving courses are just some of the things that the swimming pool is used for. We can always find a good reason to get into the water. The swimming pool has a modern filter system, which drastically reduces the need for chlorine, so even the sensitive can take a dip. The hall has one three- metre diving board, two one- metre diving boards, goals for water polo and lots of swimming equipment, such as flippers, etc.
Hall 2, 3, and 4, as they are so imaginatively called, are three fully equipped sports halls, measuring 40 X 20 metres. We use them in our day-to-day training, and if you choose, for example, Handball, Volleyball or Basketball, it is here that you can cut loose and fine-tune your techniques.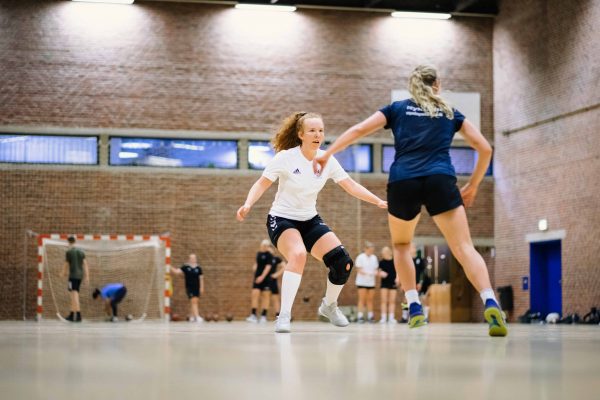 The tennis hall makes it possible to train for tennis for a whole indoor season. The hall has four courts, is eighty metres long, and has a first-class rubber floor. You can train your technique, games, and condition under optimal conditions all year round. In addition to the indoor tennis hall we also offer training on more than ten outdoor courts.
Aarhus Tumbling Centre offers fantastic possibilities for all forms of gymnastics and tumbling training. If you choose our Sports subject, TeamGym, it will be here that you will train. The Centre consists of a spring hallnd a multi-movement hall with, amongst other things, large trampolines, a foam pit and airtracks. Team Gym Aarhus, which is one of the country's best teams, trains here, while VIK, who are the Danish champions in sports gymnastics, also use Aarhus Tumbling Centre as their home ground.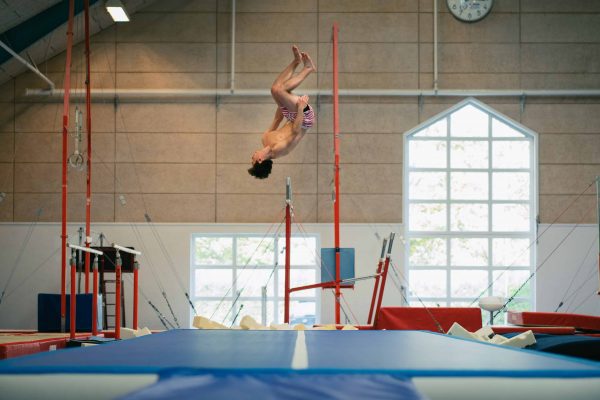 As a student at IHÅ you have free access to our strength training and CrossFit room, 'Frank's Gym'. The room is equipped with everything that one could wish for in terms of equipment for both classic strength training and functional training, such as CrossFit. If you choose the subject, Fitness or Powersport, or perhaps need to retrain following an injury, you will no doubt get to know our fitness trainer, Frank Henriksen, who is, naturally, the 'Frank' in the name 'Frank's Gym'.
In 2017, IHÅ had the Multi-house built, which is a nine-hundred square metre large 'playground' with, amongst other things, a cool strength training room and a motion hall that can be used for team training. The rooms are equipped with everything that one can wish for, with both strength training and circulation machines, plus various equipment for precisely your activity. You always have access to the rooms, of course – even in your free time.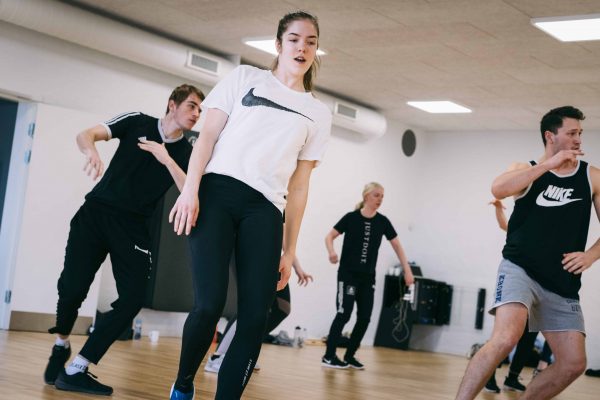 We have two wonderful music rooms, equipped with everything you will need to use, which includes a large number of instruments and a PA system. The music rooms are free for you to use while you attend the school and we hope that you will use them as much as much as possible.
The school's cinema is in the cellar, and is furnished with forty-seven soft chairs, a big-screen and surround sound. You can bring your own soft drinks and snacks with you. The room is also used for teaching, for example, football analyses or for the chosen subject, Film. When there are major sporting events, the students often gather either here or in the Lecture theatre for the big screen and an unmatchable atmosphere is guaranteed.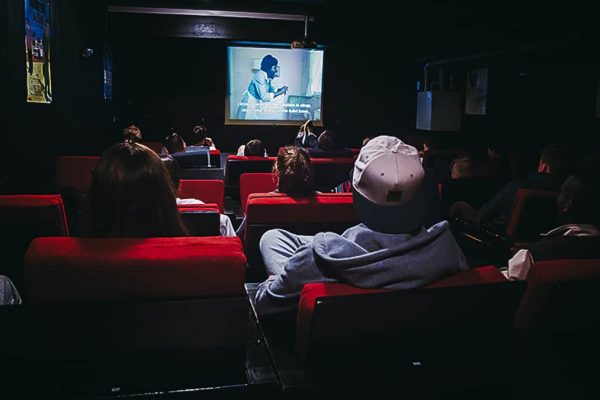 Students have several rooms that they can call their own. On the first floor in the main building, there is a pool table and a table football table, plus a flatscreen and large, comfortable sofas. There are also tables and chairs here, where one can sit and play various games. Moreover, in one of the residential wings, there is access to what we call the Sports Café and the 'Tea-room'. They have a cosy atmosphere, with lots of room to relax, and the opportunity to watch a film, make pancakes in the small kitchen, or whatever else you can think of. There is also Wi-Fi, which covers the whole school, and which you are, of course, free to use.
We have, in cooperation with Vejlby-Risskov Hall and Aarhus Municipal Council, established a sports rambla in front of each hall. In an area covering five thousand square metres, we have two beach volleyball pitches, a beach handball court, an outdoor CrossFit- area, a 'five-a-side' artificial turf football pitch, a street basketball court, areas for street handball and a running track for testing and sprinting. When the weather is suitable, we often hold our lessons in this lovely area.
You can train in sun, wind, and all types of weather here. Our full-size artificial turf pitch, which was re-turfed in 2015 and given a new LED-light system in 2019, offers optimal all year-round training conditions. We can train here whatever the season, and if things go completely wrong weather-wise, we have halls available – however, this means that there is, unfortunately, not really a chance for spontaneous mud fights during football training.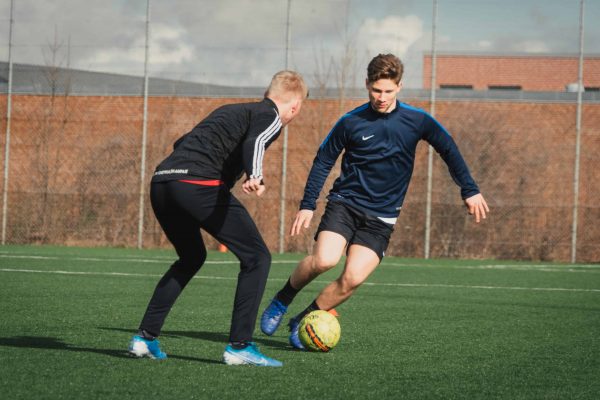 GRASS PITCHES AND A STADIUM
In addition to our artificial grass pitch, we also have over ten grass football pitches and a stadium, which we use as long as the weather and the condition of the pitches allow it. There is also a running track at the stadium, plus various athletic instillations. On top of that, handball players can also come out and experience training in the fresh air if the weather is suitable, as we have access to two outdoor handball courts on grass and sand.
When you go out to play tennis, then a total of fourteen courts await you, which we use for training and lessons. There are three courts with artificial grass, and eleven with red clay, so there are ample opportunities to try out the different surfaces. When the weather is bad, it is also possible to train in the indoor tennis hall.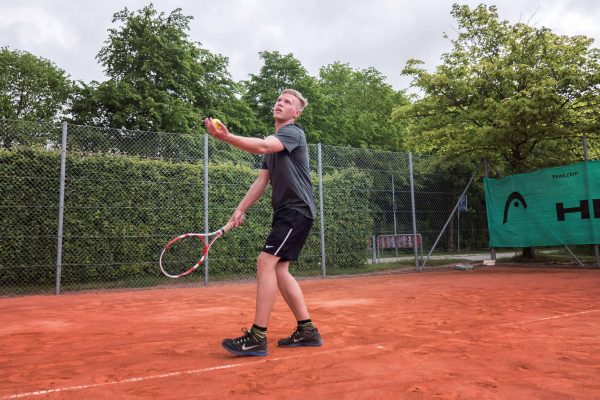 TAKE IN THE ATMOSPHERE AT IHÅ ON A GUIDED TOUR
Are you considering attending our school, but are in doubt as to whether it would be something for you? Then, come and pay us a visit. The best way to be certain is to feel the atmosphere, meet the people that are at the Folk High School, and see our surroundings and our many facilities with your own eyes.