TENNIS LESSONS WITH CHALLENGES FOR EVERYONE
At IHÅ, you will play tennis twice per week, and it always takes place in a positive atmosphere, with a focus on learning new things and improving your own and your partners' tennis game. We warm up with coordination and physical exercises before we go over to technical / tactical tennis exercises, and, as a rule, we finish with a match – usually with points. We play with types of balls in the 'play and stay' principle, so we achieve maximal learning. Everyone gets something out of our training sessions, and if you are a practiced tennis player, we ensure you will receive technical, tactical, and physical training at a high level.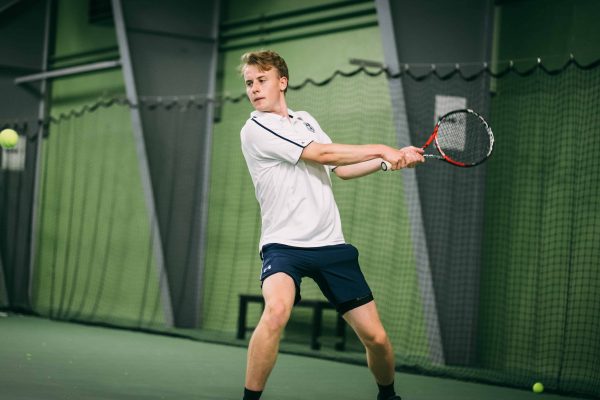 IMPROVE IN A SHORT TIMEFRAME
Tennis is for those of you who would like to learn a new, technical game, where the feeling of making the perfect hit is one of the best sensations in any sport. You will be trained both individually with 'feeding' and technical correction, and via a 'game-based approach', where you play towards your development with some individual focus points. You will gradually experience a significant improvement in your game.
While you attend IHÅ you have, amongst other things, the opportunity to travel to Club La Santa on Lanzarote where, amongst other things, we play tennis in wonderful surroundings in beautiful summer weather. In addition, we also have a long list of other trips which you will be able to participate in when you attend IHÅ.
TENNIS COURTS FOR EVERY OCCASION
We have optimal court facilities for your tennis games, both indoors and outdoors. We have six indoor courts and ten outdoor courts available at IK Skovbakken, which are all connected to the school's site. This gives you ample opportunities to also play in your spare time and, thus, further develop the inputs that you receive through your training. We always have enough courts available for your lessons, so everyone in the class can play at the same time, and you will not have to sit and wait until it is your turn.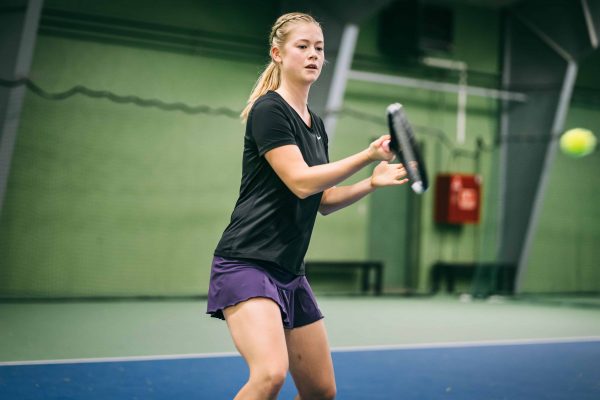 SINGLES, DOUBLES AND MATCHES
Do you love the individual focus of singles games, or are you more excited by the cooperation of doubles? At IHÅ, you will have ample opportunities to try out both variants. In the beginning, we will play a fair amount of doubles, because doubles games demand cooperation, and because, especially for beginners, it gives a better game with more duels. There is also the chance to have the court to yourself for exciting single duels. You can satisfy your competitive spirit in friendly matches with your Folk High School friends or perhaps with local club players.
TAKE IN THE ATMOSPHERE AT IHÅ ON A GUIDED TOUR
Are you considering attending our school, but are in doubt as to whether it would be something for you? Then, come and pay us a visit. The best way to be certain is to feel the atmosphere, meet the people that are at the Folk High School, and see our surroundings and our many facilities with your own eyes.