MAKE YOUR PRESCENCE FELT ON THE STAGE
In Drama, you will become part of a class where we challenge ourselves when we, for example, play with impro-theatre, which you perhaps know from live performances and similar TV shows. If you are good at 'Hint' or 'Charades', then you are, without doubt, also good here! However, we also work with texts, character work, and various other ways of creating dramatic expression. Bring a good mood and an open mind with you, and many happy hours await together with your Folk High School friends and your enthusiastic teachers.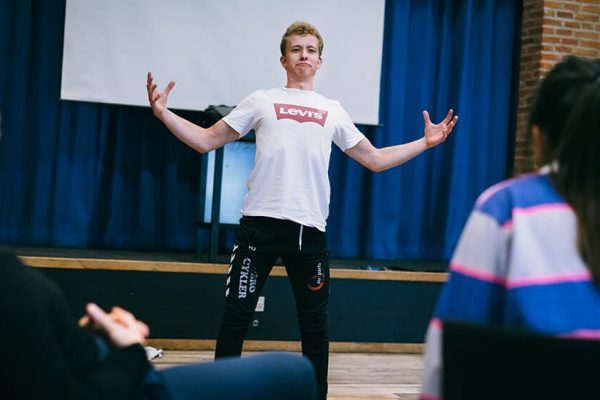 WE CREATE DEVELOPMENT VIA CONFIDENCE
Especially at the beginning of our drama course, we always focus on building up confidence in each other so that we dare to perform – first to each other, and later to more people. In that way, we become as free as possible in relation to going on the stage to perform. If you are a little unsure about speaking in front of large groups of people, drama is also the place where you can become, at least, a little more confident, and perhaps even really good at this discipline. Perhaps, we will round off the drama course with a small or large show, which will be enjoyed by the rest of the school.
FROM THE LECTURE THEATRE TO THE streets OF AARHUS
When we are together in drama, we typically use our large lecture theatre, where we have both a stage and a costume room available, so that we can really come into character. Sometimes, though, we also go out into other spaces at the school to create different expressions and another dynamic. We can also involve other people from the school here that suddenly – sometimes without knowing it – become a part of our drama lessons. Perhaps, we might also go into the centre of Aarhus and arrange happenings, where we challenge ourselves and the residents of the town to play various exciting roles.