A DAY FILLED WITH SPORT, MUSIC AND FELLOWSHIP
A typical day at IHÅ begins with your alarm clock ringing just before 7.00 am, when you jump into some clothes and go over to eat breakfast, which is from 7.00 -7.30 am. If your team has duties in the kitchen or cleaning in the common areas, you meet with the others in the team before breakfast and carry out your tasks together.
Lessons begin at 8.00 am, and are related to sport every morning. You either have a Physical Subject or a Sports Subject, which runs until circa 10.00 am, when coffee, tea, fruit and crispbread are served. Perhaps you will use the break to take a quick bath, depending on what kind of lessons you have had or what you will continue with.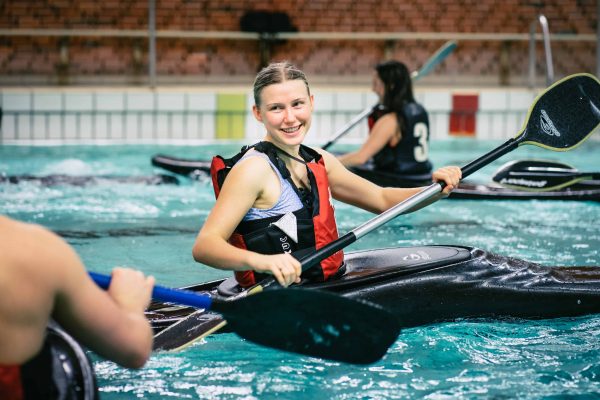 TIME TO FILL UP THE DEPOT
The morning lessons finish at 11.30 am, and the kitchen is ready with lunch at 12.00 Noon. Lunch is often a warm dish with salad, cold cuts, and bread. Before wishing you bon appetit, the day's duty teacher gives any relevant messages. If your team has kitchen duty, you help to clean up and wash up after lunch.
Lessons begin at 1.30 pm. Some days, there are sports; other days, selected subjects or cultural subjects. In the middle of the afternoon, there is a break with coffee, tea, bread, and fruit. When your afternoon lessons are over, at around 4.00 pm, you are free to do as you wish. You can, for example, take a special subject offering, practice your guitar, train in the workout room, relax, play board games, etc.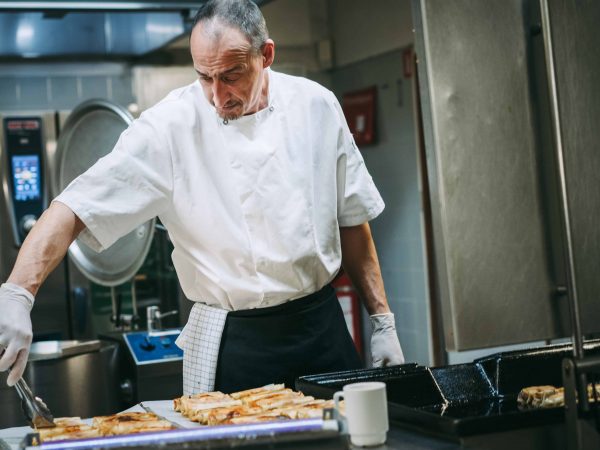 FUN FOLK HIGH SCHOOL EVENINGS
At 8.00 pm a hot dinner is served, and afterwards there is free time again. The week's host team might have planned some fun, offbeat activities, which you can choose to participate in.
Every Wednesday, however, there is a Folk High School evening, which can consist of a lecture or a musical spot. On the last Folk High School evening in the month, our so-called 'Live Café' is held, where everyone has the opportunity to perform on stage, while, of course parties are sometimes held in our lecture theatre.
The Folk High School's main building and the halls are open every day until 11.00 pm
When you hear the word, 'duties', it can well be a little discouraging at first, but it is not as bad as you might imagine. At IHÅ, you are part of a fellowship, and you contribute towards making the fellowship function. You are a part of a team, and together with your team comrades you have a number of chores that you must carry out in the weeks when it is your turn. There are kitchen chores, cleaning up and cleaning chores, and every team will also take turns to be hosts for a week and lead various activities. The various chores are all delegated on the principle that they will not take up your free time –they are always easy tasks that you can carry out within a reasonable length of time and which do not crave all of your energy. During your residency, you and your roomie are also responsible for keeping your room clean and tidy, but we make it easy for you. You are given all of the cleaning materials that you need, and there are fresh bedclothes for you every fourteen days. You can, by the way, wash your dirty training clothes whenever you wish in the washing cellar.
LOTS OF ROOM FOR FREE TIME AND BREAKS
Free time at IHÅ is your own. There is lots of it, but before you know it, it is filled up with all kinds of exciting activities. Perhaps you are helping to arrange a themed party, or you are practicing with your band before the next Live Café.
The compulsory lessons take place between circa 8.00 am to 4.00 pm, and afterwards you are free. Aside from Wednesdays, every evening is your own. On weekends, many students stay at the school, and you decide yourself what you wish to participate in. It is also easy to jump on a bicycle or take a bus to the centre of town and enjoy a film or go shopping.
And remember, breaks are one of the most important things. You have time to live, to reflect over existence or hold your friend or partner by the hand.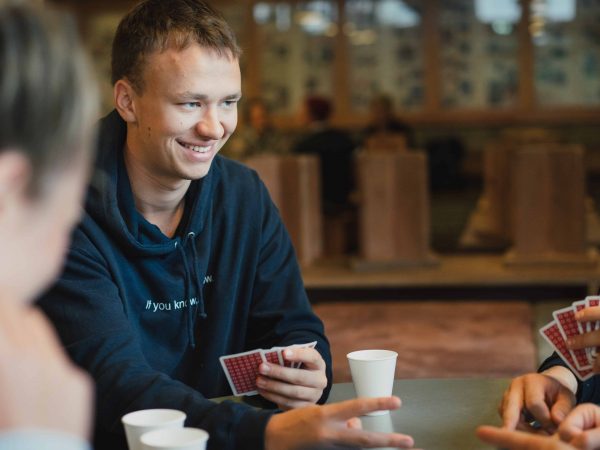 As a student at IHÅ you will come to live in a double room, with your own bath and toilet together with a roomie, who you will no doubt come to develop a close relationship with. Not that you will get to spend so much time in your rooms, as so much is happening all the time – but you will get to know each other well, anyway.
TAKE IN THE ATMOSPHERE AT IHÅ ON A GUIDED TOUR
Are you considering attending our school, but are in doubt as to whether it would be something for you? Then, come and pay us a visit. The best way to be certain is to feel the atmosphere, meet the people that are at the Folk High School, and see our surroundings and our many facilities with your own eyes.