THIS IS THE PLACE FOR YOU – WHATEVER YOUR AMBITIONS
If one of your sports subjects is going to be Handball, you will come to train twice per week with full intensity. But if you have ambitions to improve even more, then our Handball Academy, with training four times per week, is without doubt the place for you. Whichever one you choose, we promise you that you will become part of a group of young people that will give everything that they have once they begin – regardless of whether they are elite players or absolute beginners at handball. With us, you will come to experience the perfect combination of fun and seriousness. In short, the best possible conditions for you as a handball player.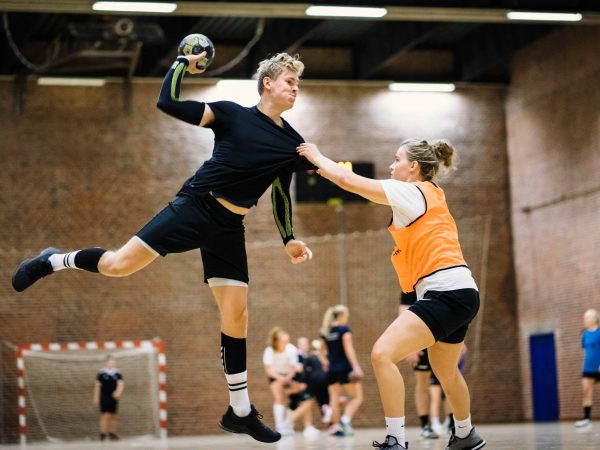 TEST YOUSELF AT OUR HANDBALL ACADEMY
The Handball Academy is for those of you who would like to focus full out on handball and test your talent with focused training four times per week. Boys, Girls and all nationalities train together and are challenged in each other's strengths, with a special focus on your individual development. In addition to your handball training, you will also put in time at our strength training room, with focused physical training once per week. You will have the best possible framework to test your sporting ambitions while you are a part of the community at IHÅ, and there is, moreover, a large amount of flexibility in the Academy lessons, so you have the opportunity to play for a club, in addition to attending the Folk High School.
We arrange a trip to Germany for all our Handball students, where we travel together to see SG Flensburg Handewitt play. We will experience the atmosphere in the fantastic Flens Arena and look closely at the level of one of the world's best leagues, the German Bundesliga. Moreover, we also always try to go on tour to World Championships, European Championships or Final4 arrangements around Europe.
A TRAINING ENVIRONMENT WITH AN INTERNATIONAL TOUCH
Handball training at IHÅ brings you into focus from the background of your expectations and abilities. We adjust our teaching so that everyone on the team achieves personal development and joy from training. It is precisely joy that is our priority when we play with many different forms of training. Also, our teachers are all current or previous professional players and trainers with great experience of club- and national-team handball, both in Denmark and abroad.
BECOME A BETTER HANDBALL PLAYER
We have a high focus on your individual development, as we are able to 'nurse' more than one usually can in a club team, where interaction in order to win matches is often most important. With us, there is no 'first' or 'second' team, and every player receives equal attention when we immerse ourselves in game analysis, timing, technique and finesse. By getting to know yourself better, you will also become a better player and part of a well-functioning handball team.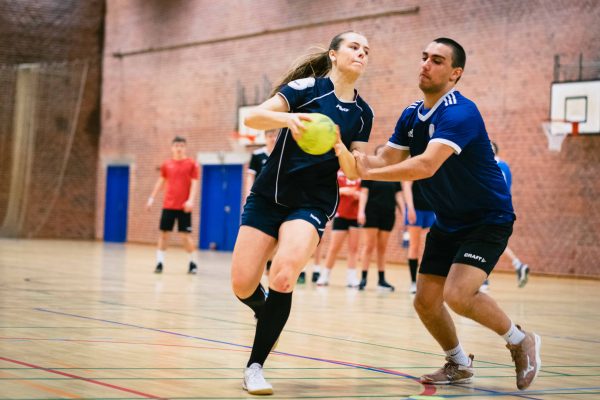 TAKE IN THE ATMOSPHERE AT IHÅ ON A GUIDED TOUR
Are you considering attending our school, but are in doubt as to whether it would be something for you? Then, come and pay us a visit. The best way to be certain is to feel the atmosphere, meet the people that are at the Folk High School, and see our surroundings and our many facilities with your own eyes.