TIME TO LIVE OUT YOUR ROCK-STAR DREAMS
Have you always wanted to stand on a stage and rock out with your own band? Now, you have the chance! Irrespective of whether you are a beginner or a routine musician, you have the opportunity to live out the dream of playing in a band if you choose our 'band' subject. We play all types of music together, but as a starting point, we are based on rock and pop genres, where there are good possibilities to get a good interplay going.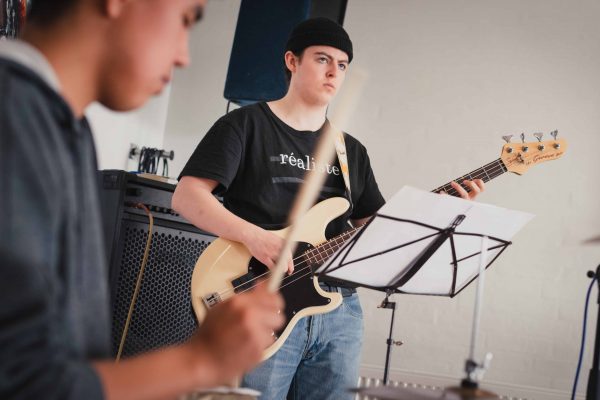 BRING OUT YOUR JOY OF PLAYING
In Band, emphasis is placed on playing together and the joy of playing in general. There is always a good atmosphere here when we work intensely with, for example, song and microphone technique and the basic skills required for the various instruments. We have two wonderful music rooms, where everything needed is available, so that you can express yourself and improve within the world of music. Our music rooms are, naturally, always available for you to use when you do not have lessons.
PERFORM IN FRONT OF THE BEST AUDIENCE IN TOWN
As you begin to learn some songs, there is quite often a chance to perform on the school's own stage in the lecture theatre, when it is transformed into the fantastic Live Café-stage. There is a unique opportunity to gain stage experience in front of an audience of more than one hundred of your good friends. There is always a great atmosphere, and everyone is really good at supporting each other, so you gain as much confidence as possible from your efforts.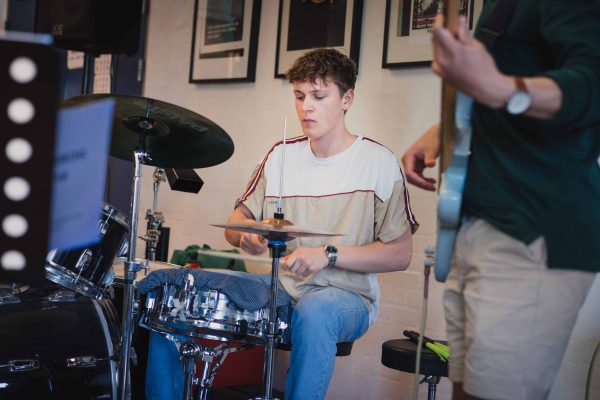 TAKE IN THE ATMOSPHERE AT IHÅ ON A GUIDED TOUR
Are you considering attending our school, but are in doubt as to whether it would be something for you? Then, come and pay us a visit. The best way to be certain is to feel the atmosphere, meet the people that are at the Folk High School, and see our surroundings and our many facilities with your own eyes.