MAKE A START WITH THREE CHORDS
Guitar as a subject is for every level of ability. Our skilled teachers will always strive to make it possible for a student to develop in relation to their starting point. Typically, a couple of beginner classes, an intermediate, and a more practiced class will be established. A good many songs can be played using three chords, and this is the starting point for beginner lessons at IHÅ. You learn the most basic chords and how to use them optimally.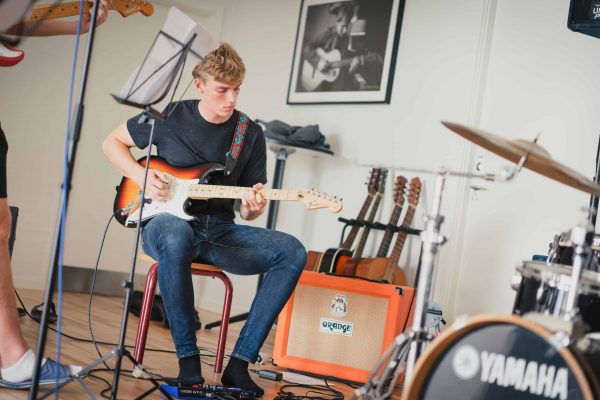 GUITAR LESSONS FOR ALL LEVELS
If you have played a little already, or perhaps for several years, the level of ambition will naturally be adjusted. We will, for example work with barre chords, extended chords, scales and improvisation. We have a number of guitars of various types which you can borrow while you are at the Folk High School, so that you can also practice outside of the lessons. Guitar is a special subject offering, where you sign up for an extended teaching programme.
TAKE IN THE ATMOSPHERE AT IHÅ ON A GUIDED TOUR
Are you considering attending our school, but are in doubt as to whether it would be something for you? Then, come and pay us a visit. The best way to be certain is to feel the atmosphere, meet the people that are at the Folk High School, and see our surroundings and our many facilities with your own eyes.