FEEL THE MAGIC OF SINGING IN A CHOIR
Our special subject offering, Choir, is for those of you who like to sing – and, especially, together with others. Everyone is welcome, irrespective of your singing proficiency. You will experience that, when many voices sing in unison, something magical happens, and our aim is to feel the joy of singing in every single lesson. When we are together, we sing everything from energetic gospel to the latest pop hits, and we sing both solo and polyphonically. Moreover, we typically perform at the school's Live Cafe, at the Family Day, and in Vejlby Church.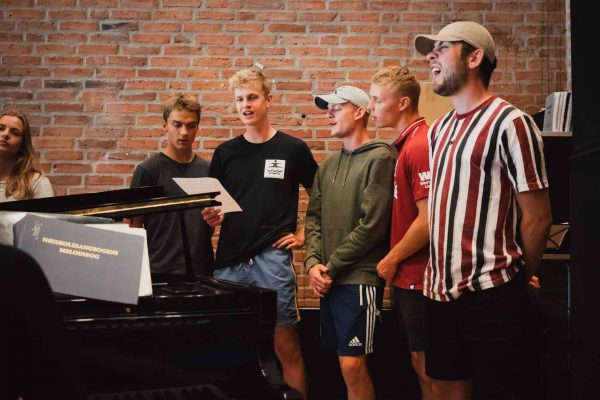 FUN AND FELLOWSHIP CENTRED ON SONG
Choir is a fun way of being with others who also enjoy singing together once a week. We always begin our lessons with a warm-up of our bodies, voices and our presence. The lessons are conducted by our choirmaster, who adjusts the songs to the level of the choir class in question. We sing songs in the category of rhythmic music, including gospel, samba, pop, etc. In the autumn class we include a Christmas repertoire, with a subsequent concert in Vejlby church
TAKE IN THE ATMOSPHERE AT IHÅ ON A GUIDED TOUR
Are you considering attending our school, but are in doubt as to whether it would be something for you? Then, come and pay us a visit. The best way to be certain is to feel the atmosphere, meet the people that are at the Folk High School, and see our surroundings and our many facilities with your own eyes.