Basketball at IHÅ is for those of you who are already passionate about one of the world's most popular ball games, or if you are simply curious about the sport. With us, you will experience a fantastic training fellowship, where we make a virtue of making each other better at the game – at just the right level for each of us individually. Fellowship, high professional standards, intensive training sessions, games and lots of fast tempo – these are just some of the things that you will experience together with your Folk High School friends if you choose basketball as one of your sports subjects.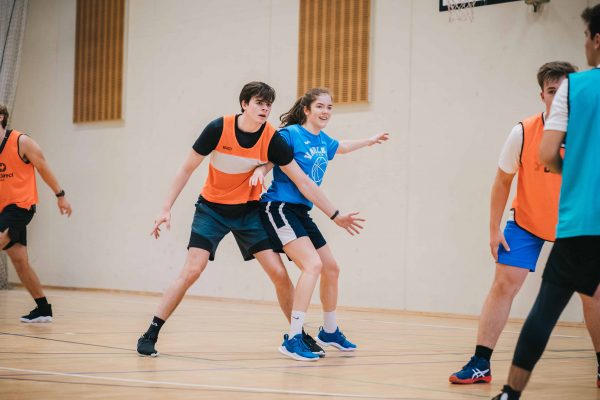 A PLAYING AND LEARNING ENVIRONMENT
You will be challenged in the basics of basketball, ball handling, and shot optimization in lots of creative exercises that challenge every student. Your individual skills will be trained in strong cooperation with others, where your smile, pulse, and the playing element make it fun to work hard at your sport. Your individual training is in close relation to the team game, where both will be combined in challenging team-related game situations.
While you attend IHÅ you have, amongst other things, the opportunity to travel to Club La Santa on Lanzarote where, amongst other things, we play basketball in wonderful surroundings in beautiful summer weather. In addition, we also have a long list of other trips which you will be able to participate in when you attend IHÅ.
DENMARK'S MOST INTENSIVE TRAINING ENVIRONMENT
As a student at IHÅ, you will land right in the middle of a world of basketball. Denmark's top team – Bakken Bears – uses our sports halls, which you will come to train in, and your teacher, Jakob Mønsted, has himself won the Danish Championship three times with the same team. Having Bakken Bear's home ground in our back yard also means that you will have the opportunity to watch many games in our own home league. And if you are looking for a place to play in addition to IHÅ, then it is possible for you to play with Bakken Bears if you are a man, or in Skovbakken Bears if you are a woman.
TAKE IN THE ATMOSPHERE AT IHÅ ON A GUIDED TOUR
Are you considering attending our school, but are in doubt as to whether it would be something for you? Then, come and pay us a visit. The best way to be certain is to feel the atmosphere, meet the people that are at the Folk High School, and see our surroundings and our many facilities with your own eyes.