GET TO KNOW YOUR BODY AND YOUR SPORT
In sport science, you gain greater theoretical knowledge of sport-related biological subjects, such as basic anatomy, movement knowledge, training physiology and physical training. With sport science as your chosen subject, you will gain a greater awareness of the mechanisms behind bodily functions, at rest as well as when playing sport. In addition, sport science is very useful if you are considering a health-related field (sport, medicine, physiotherapy, etc.) as a direction you will take after your time at the Folk High School.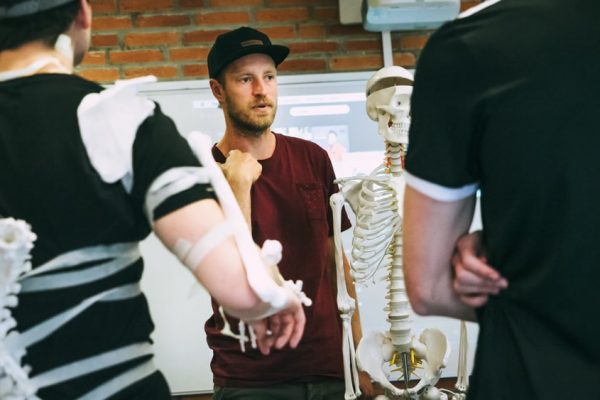 ANALYSES, INJURIES AND TRAINING PROGRAMMES
In sport science, we will go through and examine the basic anatomy of the most important structures in the body that are used when playing sport. You will also become acquainted with detailed motion analyses of well-known strength exercises and gain insight into the most common sports injuries. We will also look more closely at respiration and circulation, energy conversion, plus aerobic and anaerobic training. Moreover, you will also learn to carry out a requirements analysis for a specific sports discipline and then prepare a training programme, taking into account the precise training adaptions to meet the needs of the activity.
TAKE IN THE ATMOSPHERE AT IHÅ ON A GUIDED TOUR
Are you considering attending our school, but are in doubt as to whether it would be something for you? Then, come and pay us a visit. The best way to be certain is to feel the atmosphere, meet the people that are at the Folk High School, and see our surroundings and our many facilities with your own eyes.